Disney On Ice Presents Mickey & Friends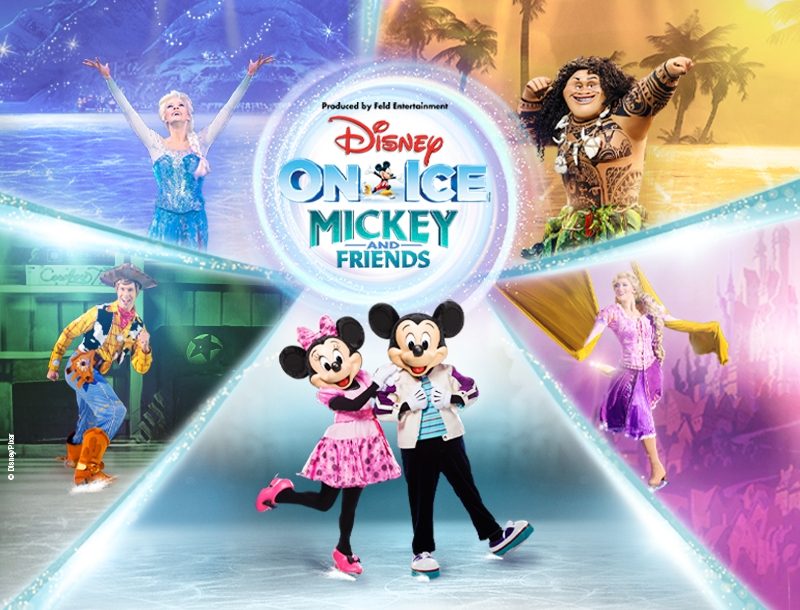 Buy Tickets
Tuesday 8 November 2022
Wednesday 9 November 2022
Thursday 10 November 2022
Friday 11 November 2022
Saturday 12 November 2022
8 - 12 November 2022
Join Mickey and friends as your favorite stories come to life at Disney On Ice!
For the first time in Kuwait, a magical Disney experience for the whole family
Sail with Moana on her high-seas adventure to save her island. Travel to Arendelle with Anna and Elsa and learn how love is the most powerful magic of all. Just keep swimming with Dory and Hank as they set out to find her parents.
See Rapunzel, Tiana, Jasmine, and the Disney Princesses make their dreams possible through bravery, kindness, and perseverance. Celebrate true friendship with the Toy Story gang and get all the feels with Joy, Sadness, and the rest of the Emotions from Inside Out. Share the excitement and make new memories at Disney On Ice!
See all your favourite Disney characters and stories come to life at The Arena Kuwait!
Choose between 10 different Show times
Each performance lasts approximately 1 Hour and 40 minutes including an interval period.
For Wheelchair Accessible Seating, please contact our Ticketing Team on Tel: 25362453 or 25362362
For Group Bookings (Over 10 seats) please contact our Hospitality Team on Tel: 65922635 or 25362362

SPECIFIC EVENT ENTRY POLICIES FOR DISNEY ON ICE
All children 2 years and older require a ticket
Children under 2 years old are admitted free provided they sit on a parent or guardian's lap
Entry to the Arena will be permitted between 90-60 minutes prior to the Show start time.
Strollers will not be permitted into the venue and must be left at designated areas at the entrances.
All personal items are left strictly at the owner's risk with no venue liability.
Anyone under 16 years must be accompanied by an Adult 18+
No professional cameras, audio or video recorders allowed
Bags larger than 30 x 30 x 15cm are not permitted into the Arena. Storage facilities are available at the Ticketing Box Office Area on M2 Level.
All E-tickets will be scanned at all entry points. Please make sure tickets are downloaded onto mobile devices
Contactless payments are encouraged throughout the venue
The Arena has strict policies on items which cannot be brought into the venue. Please check our list of prohibited items. (www.thearenakuwait.com/box-office)
No re-entry: The ticket grants a one-time entry into The Arena Kuwait, with no right of re-entry.
Food and beverage are not allowed from outside The Arena Kuwait. Only food and beverage purchased within the Arena can be consumed on-premises at an event.
Smoking, including e-cigarettes, is not permitted on the premises. Lighters and matches are not allowed inside the Arena.
Visitors are requested to always be seated during event performances. No standing or dancing is permitted.
TICKET TERMS AND CONDITIONS
The Arena Kuwait is the exclusive and sole authorized provider of ticket selling services for all events at the Arena Kuwait unless otherwise notified officially by the Arena Kuwait.
Tickets purchased through any other sources are invalid and will immediately be deemed cancelled upon detection.
A maximum of ten tickets per purchase transaction is allowed.
The Arena Kuwait management is entitled to, without refund or compensation, refuse entry to any person who presents an Event ticket purchased from any source unauthorized by the management.
Tickets are only valid for the date, time and event shown and should be presented at the time of admission and kept until the end of the Event.
Ticket refund and exchange is limited to certain occurrences based on the refunds and exchanges policy as detailed in our website.
In case an Event is canceled or rescheduled, The Arena Kuwait will provide the details of Ticket refund or exchange.
Entry may be subject to age restrictions specified on our website, and to different security and/or health restrictions imposed by the authorities.
Tickets are not resalable, waivable or transferable to others.
Tickets that are duplicated, resold or transferred to others or used for advertising, promotion or other commercial purposes will be subject to immediate cancellation.
Tickets which have been altered or defaced will immediately be invalid.
The Ticket holder agrees to submit to any search for any prohibited items including, but not limited to, recording devices, food & beverage, bottles, backpacks, bags exceeding approved size and controlled or dangerous substances. A full list of conditions of entry and prohibited items can be found at our website.
The Ticket holder confirms his/her awareness of the nature of the Event and voluntarily assumes all risk and danger incidental to the Event whether occurring prior to, during or after the actual Event.
The Ticket holder undertakes to follow the local dress code and code of conduct appropriate to Kuwait's culture and traditional values.
The Arena Kuwait reserves the right to add, withdraw, reschedule, or substitute artists. and/or vary advertised programmes, prices, seating arrangements and audience capacity.
The times for attending the Event is based on the announced scheduled event timings; generally, 60 - 90 minutes before the start of an Event (please check Event details for exact timing for attendance).
The Arena Kuwait reserves the right, without refund or compensation, to refuse admission or request the exit of the Ticket holder in case of causing disorder or showing inappropriate or unethical conduct or posing a threat to the security or enjoyment of other Event attendees.
For detailed terms and conditions, please visit our website. www.thearenakuwait.com/box-office